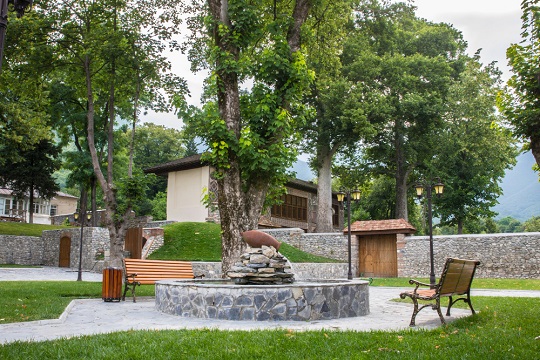 Are you thinking of prestigious landscaping to beautify your home? The range of possibilities is entirely up to your imagination! To help you make choices worthy of a magazine cover, discover the 4 grandiose landscaping trends for 2022!
The Outdoor Workspace
Telecommuting has grown in popularity over the past few years. Many have been charmed by the joys of working at home, which are here to stay. The terrace then becomes the favorite place to take advantage of the good weather while carrying out your tasks outside the office. To set up your outdoor workspace, several options are available to you.
Booths or even small rooms in the yard provide a quieter environment to work in. Separated from the house, the cabin facilitates the break between work and rest. At the same time, it fits into your decor to bring you closer to nature. Large windows are a must to feel outside.
In this regard, it is also possible to set up an office directly outside. You then find yourself fully immersed in the greenery and enjoy every element that the seasons bring. If you choose this option, consider having an indoor office also for rainy or cooler days.
La Pool House
Who hasn't entered the house too quickly after swimming, leaving unwanted puddles of water on the floor? When you're enjoying a nice summer day, it's best to have everything close at hand! The pool house is THE trend to integrate into your decor to maximize your quality of life. This space adjacent to the pool can hold all the necessary amenities: kitchen, bathroom, and even washer-dryer to keep wet clothes out of the house and warm towels close by.
You can even add an outdoor shower, very useful for getting rid of salt or chlorine residue on the skin. Some include a relaxation room at the pool house, creating a real oasis in their backyard. With this addition, you'll enjoy all the joys of indoors, now poolside. Once you try it, you can't live without it!
The Outdoor Gym
Sunny days often bring back the desire to keep in shape! Working out in the comfort of your own home is great fun, but when the weather is nice outside, no one wants to lock themselves in with the machines. This is why the outdoor gym is a trend that is not about to run out of steam.
Pull-up bars, dumbbells, and even cross-fit courses are some of the hottest items for outdoor gyms. Starting a sunny day in her peaceful space to do yoga is also very pleasant. Even the swimming pool can be part of your training zone! No matter your styling style, there will be solutions to improve your backyard layout.
Popular Materials And Plants
To make your choice of materials, certain sure values ​​guarantee both a trendy and timeless look. Natural stone, for example, does not lose popularity. It is even gaining popularity! Corten steel is also one of the rising stars.
Decorating your yard with plants and greenery is essential! Fashions in horticulture are difficult to follow because they are so vast. So you can go there with your personal favorites. Namely: grasses (similar to hay) seem to be growing on more and more land! The synthetic turf carpet is also well appreciated for spaces near the swimming pool or even relaxation areas.…