In terms of weather, without a doubt, Quebec is full of surprises. Through these freezing winters and the hottest summers, we always feel several thaws. These temperature variations cause a freezing and thawing phenomenon which can be brutal on outdoor installations. The bad weather that periodically hits the territory does nothing to help the sustainability of the developments. Indeed, when creating patios and terraces, it is necessary to think carefully about the resilience of the materials chosen. Are you having trouble finding your way around? Avoid unpleasant surprises and consult our guide to choosing the patio materials adapted to the Quebec climate!
Before The Works
Before even starting the work, several factors must be considered to complete your project. It is essential to define your expectations. First, you have to decide if the patio or the terrace is preferable in your layout. Next, you will need to look into the various weather factors and municipal rules in your area. Indeed, some municipalities have very specific construction regulations. To avoid unpleasant surprises, please refer to your municipality's building code. To do this, it is important to ask yourself the following questions:
How much money am I willing to invest in this project?
What style do I want to give to the project?
Do I have the time and inclination to take care of the interview?
What activities will I do in this space?
Once these questions have been resolved, it will be much easier for you to make an informed decision and establish an effective plan with your landscaper. Continue reading to learn more about the different species of trees and stones available on the market, their main advantages as well as some of the disadvantages they may pose.
Treated Wood Patio
The treated wood patio is possibly one of the most popular options. Many people use it to create their patio since this material is both economical and versatile. This wood can be stained in many tones or even painted. It will still be necessary to opt for coatings resistant to UV rays and water. Keep in mind that the structure will probably need to be brushed after a few years depending on its exposure to the elements and the quality of the products used. On horizontal surfaces, this could be every year if you want a more consistent finish.
Cedar Patio
Cedar is a material with an excellent reputation for outdoor projects. Indeed, it is known to be very resistant to mold and has a lifespan of about twenty years. However, this is quite an expensive option. In addition, this wood requires excellent annual maintenance. You also have to be realistic about how it looks. Even with a protectant or stain, cedar tends to turn gray in the sun. When making this choice for an outdoor structure, one should be aware of these factors.
Ipe Patio
Ipe, an exotic wood from South America, has become an increasingly popular product over the years in Quebec. It has several advantages similar to treated wood in addition to offering better resistance. In general, ipe has a lifespan of about forty years when well maintained. This is quite an interesting feature. In addition, it is easy to maintain.
It is recommended to clean the wood and apply a UV protectant annually to prevent discoloration. The negative point, it is an expensive material. You must therefore be ready to invest to obtain an ipe terrace.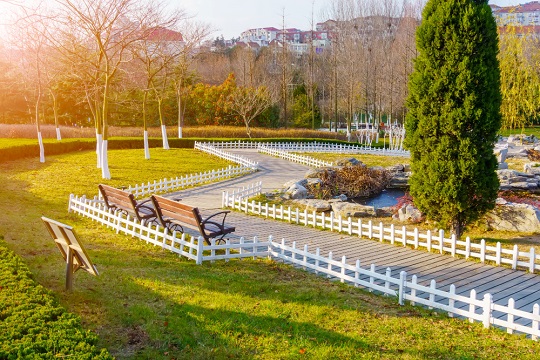 Natural Stone Patio
Stone is a very resistant option that has proven itself in Quebec weather conditions. This type of layout is also magnificent when the installation has been well executed. Natural stone paving not only creates a natural and clean look, but its durability is excellent. Properly cared for, natural stone will last a lifetime. However, it is necessary to choose the type of stone affixed carefully since, subject to the cold, some can cause problems. For example, when the surface of the slate is frozen, it becomes slippery and its edges sharp. Your landscaper can guide you through the planning. Note that, despite some beliefs, it is also possible to have smooth finishes in natural stone.
Precast Concrete Paver
Concrete paving is a very versatile option. There is a wide choice of ranges available, which makes the price very variable from one layout to another. Concrete slabs are generally resistant to freezing and thawing. The maintenance of pavement is usually done annually. It is necessary to clean with water and touch up with polymeric sand where there are imperfections in the joints. The use of polymeric sand can be very advantageous since it prevents grass from growing in the joints. Given the wide variety of pavers available, the durability of this one will depend on its quality. Thinner pieces will often be weaker. It will therefore be necessary to choose material according to the anticipated use of the covered spaces.